Accommodations
Need a place to stay? The following hotels are nearby the wedding venue:
Eastside Lodge - Nothing fancy, but the most economical option. The Eastside Lodge is within easy walking distance (about 6 blocks North) of the venue. Typical economic motel.
Jupiter Hotel - Another affordable option (use code WEDD for a 15% discount), and, also, within walking distance (about 6 blocks North) of the wedding venue. The Jupiter is a remodeled motel adjoined to a night club, making it a great place to stay while checking out Portland nightlife, but potentially noisy for those who like to turn in early. Hip, lively, Portlandy motel, but potentially noisy.
DoubleTree Portland -About a mile North of the venue, it's a quick drive if you have a car, or around a 20 minute trip to hop on the Portland streetcar and then walk 6 blocks to the venue. The Doubletree is still affordable, but a nicer option than the Eastside Lodge and a more traditional alternative to the Jupiter. The Doubletree also has the advantage of being located on the MAX lightrail line, with easy access to the Pearl District and West side of Portland.
For those with cars or willing to be adventurous with the public transit system, feel free to check out other hotels as well. The Ace, The Benson, and others, are across the river from the wedding venue but in the middle of a number of West side attractions.
Transportation
Flying: The closest airport is
Portland International Airport
.
Getting to the Venue
From the North:
Take I-5 South. Take Exit 300B toward US 26/Oregon 99E/OMSI/Oregon City. Keep left at the fork, following signs for Oregon City. In half a mile, turn left onto SE Grand Ave. Take the 2nd right onto SE Morrison St. The Holocene will be on the left.
From the South/Beaverton:
Take I-5 North. Take exit 300 for for I-84 E/US-30 E toward Portland Airport/The Dalles. Keep right at the fork, follow signs for Central Eastside Industrial District and merge onto SE Yamhill St. Turn right onto SE Martin Luther King Jr Blvd. Turn left onto SE Taylor St. Take the 2nd left onto SE Grand Ave. Turn right onto SE Morrison St. The Holocene will be on the left.
From the Jupiter Hotel:
Head south 8 blocks on 9th street, then turn left onto Morrison and walk one block to Morrison and 10th. Driving, you'll have to go east on Burnside and turn right onto 11th, then turn right onto Morrison.
From the Eastside Lodge:
Head south 9 blocks on 10th street past Ankeny Ave and Sandy Blvd. Driving, go east on Burnside, left onto Morrison, then head south to 10th.
Getting Around Portland
If you're staying in Portland and are up for a little walking, your best bet is to buy a TriMet all day pass for $5. This will get you on
MAX Lightrail
, the
Portland Streetcar
, and all city busses. System maps are available
here.
From the Jupiter Hotel and the Eastside Lodge, the streetcar (which connects to the MAX lightrail line) is 4 blocks west.
The MAX also connects directly to the Portland International Airport.
A Few of Our Favorite Places in Portland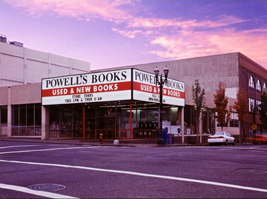 Powell's
Powell's Books
is so awesome that it gets its own category. This new and used book store covers a four stories of a city block and has just about every book you could want. If you like books at all, Powell's is a must visit. Make sure to put aside a couple of hours at least to explore. For you science people, there is also a technical bookstore just across the street, with books on how to fix cars, build robots, and program computers.
It's here
.
Food, Drink, Coffee
Portland Farmer's Market
Grab a hot breakfast and some fresh produce here (stone fruit and early pears/apples will be in season!).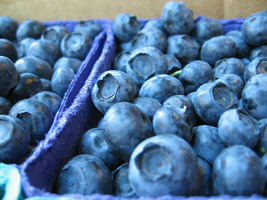 Snow White House - Crepes To Go! We went to this food cart a lot in high school, because, well, crepes are good! Savory or dessert crepes, but sometimes can be a bit of a wait.
Sushi Ichiban Conveyor belt (well, choo choo train) sushi for cheaps. Great food prices at happy hour. This is the place to go if you have a sushi craving but also a big appetite. Vegan sushi options too!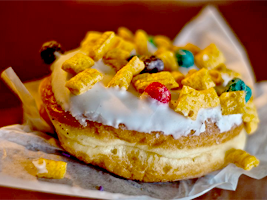 Voodoo Doughnut Okay, the line is usually out the door, and it's kind of for tourists, but this place is always open, doughnuts are tasty, and you're guaranteed to see some doughnut flavors you haven't encountered before. It's worth a trip if you haven't been. Melissa's favorite is the Vegan McMinnville Cream (cream filled maple glaze with mustache). There are two locations, one on the West side, one on the East (near the Jupiter and Eastside Lodge).
Deschutes Brewery Excellent place to grab lunch or dinner and a pint or three. This is not your average brewpub grub. It goes without saying that we like the beer too. Deschutes is one of our gotos for lunch when we're running around downtown.Google Maps.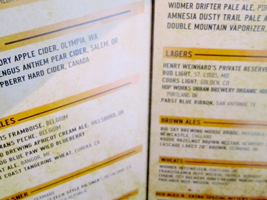 Henry's With a tap list over 100 entries long, Henry's is a good place if you're looking for variety, and want to try regional beers. Location.
Happy Cup Non-profit coffee roaster and coffee shop. Their espresso roast is so. good.
Stumptown Coffee Portland is full of good coffee, and this roaster/chain of coffee shops is super good.
Nightlife
Berbati
The Thirsty Lion
Kells
Ground Kontrol Classic arcade + bar!
Places To Go, Things To See
Park Blocks
Grassy tree shaded blocks in the middle of the city, a nice place for a walk. The South Blocks extend from the Farmer's Market north past the Portland Art Museum to Pioneer Courthouse Square.
Pioneer Courthouse Square Take your photo next to the guy with the umbrella, sit and eat lunch on the brick steps, go shopping (no sales tax!), and get cheap tasty food from one of Portland's many food carts.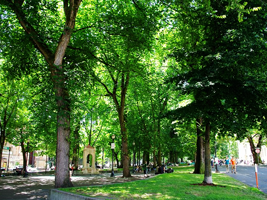 Portland Rose Garden The roses will be blooming - of particular interest is the rose test garden with new/experimental roses. (Melissa wrote this one.)
Portland Japanese Garden
Portland Chinese Classical Garden
Portland Art Museum
Oregon Zoo
Venturing outside the city...
We realize some of you may never have been to Oregon, or even the West Coast before. This being the case, if you're planning on staying a little longer, you might want to explore the wider area. Here are some places we think are fun to visit.

The Pacific Ocean Reportedly bluer than it's Atlantic counterpart. The Oregon coast is around two hours west of Portland. We would recommend checking out Cannon Beach for scenic views and little shops, or Seaside for more of a boardwalk feel. With a few extra hours of driving, you could make it south down the coast to Newport, and visit the Oregon Coast Aquarium, as well as the original Rogue brewpub (Rogue also has a brewhouse in Portland).

The Columbia River Gorge You can find many good spots to hike or picnic along the Columbia River, and the drive itself up the gorge has incredible views. Multnomah Falls are about a 30 minute drive up the gorge from the city center, with a tourist center and a paved hike to the top of the falls.

Central Oregon The center of the state is a haven for any sort of outdoor activities. For some truly spectacular views, take a day hike to the top of South Sister. Just make sure to bring good shoes. Check out white water rafting on the Deschutes river, or rock climbing in Smith Rock State Park.

Crater Lake Another spectacular view, Crater Lake is the deepest lake in the United States, formed in the caldera of an ancient volcano. Visitors can park at the top and take a hiking trail down the inside of the caldera, to the edge of the water.

Ashland, OR This small town just over the border with California hosts an annual Shakespeare festival for 5 months of the year, and is on the route from California cities up to Portland. With multiple theaters and modern plays in addition to Shakespeare, Ashland makes a good overnight stop.

Seattle We're not really sure why you would want to visit Seattle if you are staying in Portland, but it is a 3 hour drive away, so it's technically possible, I guess.

include_once('../footer.php'); ?>